Happy Like Buddha Podcast with Adewale Adejumo is a personal growth podcast with a mission to teach wisdom and transformational thoughts that you will not learn in school. Happy Like Buddha brings you the greatest and best entrepreneurs and personal growth Mentors on the planet, and they'll be sharing the best ideas on personal growth for mind, body, spirit and work.
Episodes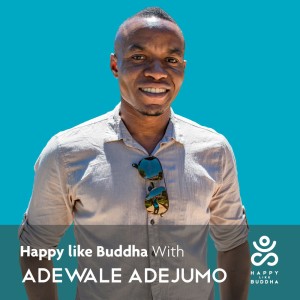 Monday Jun 07, 2021
Monday Jun 07, 2021
In today's Happy Like Buddha Podcast, Adewale is joined by the author of "HOW CAN I MAKE A DIFFERENCE?" and content creator. We are thrilled to welcome Poloko Mmakgolane to the Happy Like Buddha Podcast.
In this interview, Adewale Adejumo and Poloko Mmakgolane take a dive deep into:
Responsibility.
How you can make a difference.
How those who have more, have a responsibility to do more.
Talked about individuals with high power and influence.
How all of us have a responsibility to pull our weight in some kind of way.
If you would like to get your hands on Poloko Mmakgolane's book, you can order through his website at polokommakgolane.com/shop. You can also find Poloko Mmakgolane on Social Media at the following link. Poloko Mmakgolane Socials.
If you haven't yet subscribed to Happy Like Buddha Podcast, click the "FOLLOW" button so that you don't miss any future episodes. Please Review us and Subscribe to our Podcast on Apple and Spotify. Tag me @therealwaleadejumo on Instagram and @waleadejumo on Twitter too!
Mentions:
Dropstore sponsored this episode. Dropstore helps you launch an eCommerce Business Fast and Easy. Visit: www.dropstore.co.za